Latest News
Thai Immigration has recently changed the rules for visa issuance. Thai Business visa extensions are now more difficult to obtain
read more
US Visa Services
Tourist Visa
for a Thai
A tourist visa is great way to bring a Thai loved one to the United States in order to have a holiday and meet other family members in the USA. The tourist visa is often issued with a validity of ten years, but the amount of time a Thai may spend in the United States for a given stay is usually limited to 90 days. The time frame for obtainment of a tourist visa in Thailand is significantly less than other types of US Visas.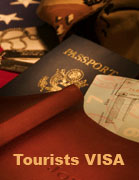 Under US law, US Consular officers must presume that anyone seeking a non-immigrant visa intends to go to the US in order to remain. A Thai seeking a tourist visa must overcome this presumption by proving that the Thai will in fact return to Thailand and not remain in the United States. This underlying principle must be kept in mind by any Thai seeking a US tourist visa.
In order to attain a tourist visa, The Thai national must fill out the DS-156 tourist visa application form and collect the appropriate documents as instructed by the US Embassy in Bangkok, Thailand. Included in the necessary documentation the Thai applicant must show a certain degree of financial stability and this is generally evidenced by proving the ownership of a house, car, or other assets. If the Thai visa seeker has a steady job with a decent salary this will also help in acquiring the US tourist visa from Thailand.
In a way, the tourist visa for a Thai fiance is somewhat of a chimera for those seeking to bring their Thai Fiancee to the US. Tourist Visas were not mean for those brining loved ones to the USA to remain indefinitely. Instead, a Fiance visa or a Marriage Visa should be utilized for those taking Thai loved ones to the US. Using a tourist visa to bring a Thai loved one to the USA to get a green card and remain could be viewed as fraud on the part of the US citizen and the Thai. Integrity Legal does not recommend misusing any type of US visa.
After the application is put together, the Thai applicant will need to go to an interview at the US Embassy in Bangkok. Integrity Legal can assist the Thai applicant by preparing the applicant for the interview based upon our clients previous experience at the interview at the US Embassy in Bangkok. Contact Integrity Legal for a correct assessment about the type of visa that best fits your situation and how best to go about getting it.

Thailand Business Setup

Thai Company registration and incorporation can be a difficult process; Integrity Legal can assist in Company Setup in Thailand.
Thai Business Setup
Marriage in Thailand

Getting Married in Thailand has never been easier. Integrity Legal's Thai lawyers can assist in executing a legal marriage in the Kingdom of Thailand.
Marriage in Thailand
USA Visa From Thailand

Integrity Legal is equipped to assist with US Immigration from Thailand. We Specialize in K1 Fiance Visas for Thais as well as K3 Marriage Visas.
US Visa Thailand
TO CONTACT INTEGRITY LEGAL Thailand Co. Ltd
EMAIL US AT: [email protected]
Call Toll Free: 1-877-231-7533
The hiring of a lawyer is an important decision that should not be based solely on advertisement. Before you decide, ask us to send you free written information about our qualifications and experience. The information presented on this site should not be construed to be formal legal advice nor the formation of a lawyer/client relationship.