Latest News
Thai Immigration has recently changed the rules for visa issuance. Thai Business visa extensions are now more difficult to obtain
read more
US Visa Services
Utilizing a
Thai Company

with Voting Shares

A common problem for many foreigners in Thailand is the fact that Thai law places restrictions upon foreigners in the areas of land and corporate ownership. With the exception of Treaty of Amity companies in Thailand and companies structured under provisions of the Thai-Australia free trade agreement, foreigners cannot take a majority ownership interest in Thai company. This is where the idea of setting up a Thai company with separate classes of shares and disproportionate voting rights enters the equation.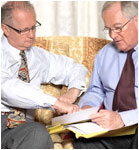 It is legal for a foreigner to own the majority of voting rights in a Thai company, so long as the foreigner does not hold a majority of the equity shares in the Thai company. Therefore, a foreigner may own 49% of the equity stake in the Thai company while maintaining control of the Thai company via disproportionate voting rights.
This type of Thai corporate structure could also be useful for a foreigner to maintain control of
Thai Real Estate. Since a foreigner is very restricted on owning land in Thailand a Thai majority company can be used to purchase the land and the foreigner would retain disproportionate voting rights giving him the power to appoint the Managing Director in Thailand who has day-to-day control of the Thai company.
In theory a foreigner could hold 49% of the equity stake in a company used as a vehicle for land ownership in Thailand. However, in practice, it is usual for the Thai authorities to demand that the foreigner only hold 39% of the equity stake of the Thai company. Essentially, the difference between equity stake ownership should not have an effect on a foreigner's control of the Thai company. So long as the foreigner intending to control the company in Thailand retains votes that constitute a majority for making decisions in the company, the foreigner controls the Thai company. Under Thai law, nominee shareholders are illegal. It is essential to find Thai shareholders who will participate in the affairs of the business, but if ultimate control of the Thai business is the aim of a foreigner, then a company in Thailand can be structured in such a way to satisfy this desire.
In any jurisdiction, corporate law is a very nuanced and subtle legal specialty. It is prudent for anyone seeking to do business in Thailand to retain competent legal advice from a professional before proceeding with any transaction. Contact Integrity Legal for more information on this subject.

Thailand Business Setup

Thai Company registration and incorporation can be a difficult process; Integrity Legal can assist in Company Setup in Thailand.
Thai Business Setup
Marriage in Thailand

Getting Married in Thailand has never been easier. Integrity Legal's Thai lawyers can assist in executing a legal marriage in the Kingdom of Thailand.
Marriage in Thailand
USA Visa From Thailand

Integrity Legal is equipped to assist with US Immigration from Thailand. We Specialize in K1 Fiance Visas for Thais as well as K3 Marriage Visas.
US Visa Thailand
TO CONTACT INTEGRITY LEGAL Thailand Co. Ltd
EMAIL US AT: [email protected]
Call Toll Free: 1-877-231-7533
The hiring of a lawyer is an important decision that should not be based solely on advertisement. Before you decide, ask us to send you free written information about our qualifications and experience. The information presented on this site should not be construed to be formal legal advice nor the formation of a lawyer/client relationship.