Latest News
Thai Immigration has recently changed the rules for visa issuance. Thai Business visa extensions are now more difficult to obtain
read more
Legal Services Thailand
Thai

Contract

In many business situations there comes a time when a relationship or transaction needs to be set down in writing. Contracts are an integral part of business relationships throughout the world. This is no less true in Thailand. Thai contracts are drafted everyday for many different purposes. A main hindrance to the non-Thai doing business in Thailand is the inability to read a contract he is expected to sign. Even if a translation of a Thai contract is produced, the contract is sill written in legal terms. This can be frustrating because sections of Thai law can be quite byzantine and because of this fact, complex legal minutia can fill many of the pages of a Thai contract. For this reason, it is often advisable to retain legal counsel that is fluent in Thai, English, and legal terminology in both languages.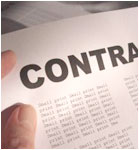 At Integrity Legal, we can produce a Thai to English translation of a proposed contract in Thailand. This translation will be carried out by a Thai lawyer with a fluent knowledge of English. Once completed, the Thai lawyer will confer with an American attorney to review the Thai contract. This process is beneficial because a foreign attorney and Thai lawyer working together are more likely to see the "full picture," of the situation. This means that the Thai lawyer would be able to more accurately assess legal and practical issues that could arise from the Thai contract. While a non-Thai attorney could analyze legal complications that may come up in his home jurisdiction.
If the Thai contract is made between a Thai and a non-Thai then the foreign attorney would be able to predict potential pitfalls for the non-Thai. Also, if the Thai contract pertains to an international transaction relating to Thailand, then this team of Thai and non-Thai lawyers would fully weigh the consequences arising from the multiple jurisdictions involved in the transaction. Possible issues that they would be on the lookout for in a contract between a Thai and a foreigner would be: conflicts of law issues between Thailand and another jurisdiction, unequal rights between the two parties, and possible legal ambiguities that could lead to unnecessary litigation in the future. These are just a few of the issues to look out for regarding Thai contracts.
It is always wise to have a competent legal professional review any document before signature. This is true especially in Thailand where a Thai contract is written in Thai script. Failure to retain competent legal advice before signing a Thai contract could lead to unforeseen legal consequences befalling the foreign businessman in Thailand. Contact Integrity Legal today for more information about Thai contract review.

Thailand Business Setup

Thai Company registration and incorporation can be a difficult process; Integrity Legal can assist in Company Setup in Thailand.
Thai Business Setup
Marriage in Thailand

Getting Married in Thailand has never been easier. Integrity Legal's Thai lawyers can assist in executing a legal marriage in the Kingdom of Thailand.
Marriage in Thailand
USA Visa From Thailand

Integrity Legal is equipped to assist with US Immigration from Thailand. We Specialize in K1 Fiance Visas for Thais as well as K3 Marriage Visas.
US Visa Thailand
TO CONTACT INTEGRITY LEGAL Thailand Co. Ltd
EMAIL US AT: [email protected]
Call Toll Free: 1-877-231-7533
The hiring of a lawyer is an important decision that should not be based solely on advertisement. Before you decide, ask us to send you free written information about our qualifications and experience. The information presented on this site should not be construed to be formal legal advice nor the formation of a lawyer/client relationship.