Latest News
Thai Immigration has recently changed the rules for visa issuance. Thai Business visa extensions are now more difficult to obtain
read more
US Visa Services
Corporate Tax and Value Added Tax (VAT) Registration
in Thailand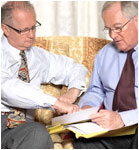 Many people wish to do business in Thailand and if undaunted by the Thai company formation rules, these people often become squeamish at the thought of the Thai tax structure. Thailand tax registration is often misunderstood, but the reality of Thai taxes is fairly simple. Unfortunately, in Thailand, like most countries, taxes are a given. Luckily tax registration in Thailand is a fairly hassle free procedure if one hires a competent lawyer who knows how to go about registering to pay Thai taxes.
Every company in Thailand must register for corporate tax and usually Value added Tax (VAT). However, if the Thai Company generates less than a certain amount of income, then it is possible to avoid filing for or paying VAT. The amount necessary to avid VAT is subject to change so it is wise to seek legal counsel in order to ascertain whether a Thai Company is subject to VAT.
Integrity Legal can assist in obtaining Tax registration for a small business in Thailand. For a start-up company in Thailand Integrity Legal includes VAT and Corporate Tax registration in the price of a Thai company set up. Once registered for corporate tax in Thailand it will be necessary each year to obtain a balance sheet and have an accountant turn in the tax records for the previous fiscal year.
For taxes and other legal matters it is always advisable to retain the services of a competent legal profession. Contact Integrity Legal today for more information about registering for Thai corporate tax and VAT.

Thailand Business Setup

Thai Company registration and incorporation can be a difficult process; Integrity Legal can assist in Company Setup in Thailand.
Thai Business Setup
Marriage in Thailand

Getting Married in Thailand has never been easier. Integrity Legal's Thai lawyers can assist in executing a legal marriage in the Kingdom of Thailand.
Marriage in Thailand
USA Visa From Thailand

Integrity Legal is equipped to assist with US Immigration from Thailand. We Specialize in K1 Fiance Visas for Thais as well as K3 Marriage Visas.
US Visa Thailand
TO CONTACT INTEGRITY LEGAL Thailand Co. Ltd
EMAIL US AT: [email protected]
Call Toll Free: 1-877-231-7533
The hiring of a lawyer is an important decision that should not be based solely on advertisement. Before you decide, ask us to send you free written information about our qualifications and experience. The information presented on this site should not be construed to be formal legal advice nor the formation of a lawyer/client relationship.