Latest News
Thai Immigration has recently changed the rules for visa issuance. Thai Business visa extensions are now more difficult to obtain
read more
US Visa Services
Limited Company
Thai Limited companies are the preferred way of setting up a business in Thailand. Most businesspeople starting up a business in Thailand are familiar with the way Thai limited companies operate because they are similar to Western style corporations. All limited companies have directors, shareholders (both Thai and foreign in many cases), promoters, and limited liability. In this case limited liability means that the shareholder in a Thai company can only lose what capital he or she invested into the venture.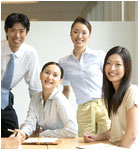 Aside from familiarity Thai companies are a preferred mode of doing business because they enable the owners to exploit the multiple methods of taking profits out of the business. Although there are double taxation issues (i.e. taxes on both earnings of the Thai Company as a legal entity and earnings from dividends of the Thai company), many of these issues can be resolved by paying out profits in salary to the directors and other shareholders as employees.
Another benefit of the Thai Limited Company is the fact that all of the rights and obligations of all parties are set down in writing so that everyone understands exactly where they stand from a legal standpoint. For example, Thai unregistered ordinary partnerships, Thai ordinary partnerships, and Thai joint ventures leave many of the duties and privileges of the owners of the Thai enterprise in a grey area. With a Thai limited Company, all of the legalities are clarified putting everyone involved on notice of what they have the right to do within the Thai company structure.
Setting up a Thai limited company has never been easier. Before July 1, 2008, it was taking approximately 6 weeks just to set up a Thai limited company. Now the process can take as little as one day. Also, whereas before it was mandatory that all Thai limited Companies have 7 shareholders, now it takes just 3 shareholders to properly incorporate and register a Thai limited company. These governmental improvements are compounded by the fact that the Thai government is encouraging foreign business in a way that they have not done in the past. Thailand is eager for foreign investors and this eagerness is even more apparent when one looks at all of the improvements the Thai government has made with regard to streamlining the Thai business registration process.
If a Thai Company is majority owned by a foreigner then that foreigner must obtain a foreign business license before being allowed to engage in business activity. However, a Thai limited company that is majority owned by a Thai national is not encumbered by such restrictions. Therefore, many find it mutually beneficial to partner with a Thai in order to meet the legal definition of Thai company. This brings up the problem of nominee shareholders. Nominee shareholders were made illegal under the last amendment to the foreign business act and in fact engaging in nominee shareholding is a crime in Thailand. However, there is a legal distinction between a nominee shareholder and a merely passive shareholder , how can any court expect a shareholder with simply one share to act with regard to the company? Therefore, the major thing to keep in mind when incorporating a business is to ensure that you are not putting a shareholder on the shareholder list who is on many other corporate shareholder lists and who doesnt really have anything to do with the company.
Also a Thai Company that is majority American owned, but certified by the US-Thai Treaty of Amity is entitled to do the same business as a normal Thai Company because a company such as this would have "National Treatment."
For up to date information about this and other topics please see: Thailand Company

Thailand Business Setup

Thai Company registration and incorporation can be a difficult process; Integrity Legal can assist in Company Setup in Thailand.
Thai Business Setup
Marriage in Thailand

Getting Married in Thailand has never been easier. Integrity Legal's Thai lawyers can assist in executing a legal marriage in the Kingdom of Thailand.
Marriage in Thailand
USA Visa From Thailand

Integrity Legal is equipped to assist with US Immigration from Thailand. We Specialize in K1 Fiance Visas for Thais as well as K3 Marriage Visas.
US Visa Thailand
TO CONTACT INTEGRITY LEGAL Thailand Co. Ltd
EMAIL US AT: [email protected]
Call Toll Free: 1-877-231-7533
The hiring of a lawyer is an important decision that should not be based solely on advertisement. Before you decide, ask us to send you free written information about our qualifications and experience. The information presented on this site should not be construed to be formal legal advice nor the formation of a lawyer/client relationship.