Latest News
Thai Immigration has recently changed the rules for visa issuance. Thai Business visa extensions are now more difficult to obtain
read more
US Visa Services
Thailand

Usufruct

A Thai usufruct is a document of right whereby one party grants to another the right of full enjoyment of Thai property to another in Thailand. A usufruct can be very beneficial for the foreigner in Thailand who is seeking to buy a house or enjoy the use of land.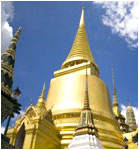 In a way, depending upon how it is structured, a usufruct in Thailand acts much like a life-estate future interest or 99 year lease in American Property Law. Only here, we are dealing with Thai property law and the rules are slightly different, as are most things in Thailand. A Thai usufruct can be drafted so that the person retaining the usufruct in anothers Thai property shall have exclusive enjoyment of that land for the duration of their natural life in Thailand. As implied, this means that effectively the person with a lifetime Thai usufruct has all of the same type of responsibilities and privileges as the owner of the Thai property would, with one major exception: the right to pass the land on to heirs.
Can anyone obtain a Thai usufruct in Thailand or is it reserved for Thai nationals?
Both foreigners and Thais can obtain a Thai usufruct for property in Thailand. A Thai usufruct can be of great advantage to the foreigner seeking to obtain property in Thailand because it will provide a large degree of insurance since under the Thai Civil and Commercial Code a foreigner is ineligible to own land (except in the case of Condos in Thailand ). Since a Thai usufruct is not ownership of land, but merely a right of use, the legal restrictions upon a foreigner in Thailand are greatly diminished.
How long will a usufruct last in Thailand
In a general sense, Thai usufructs last for 30 years. However, a natural person, either foreign or Thai, has the right to a lifetime Thai usufruct so long as the Thai usufruct agreement stipulates as such. This is a great benefit to foreigners in Thailand because it means a person with a home in Thailand could live and enjoy the home and any land surrounding it for the whole of their natural lives. However, one downside to this is that, under provisions of Thai law, the Thai usufruct extinguishes at the end of the original Thai usufruct holders natural life.

In the case of a Thai juristic person ( Thai Limited Company, Thai Limited Liability Partnership, Thai Public Limited Company, etc.) obtaining ownership of a Thai usufruct in Thailand, the Thai usufruct will only be valid for a maximum of 30 years. This legality was designed in an effort to forestall people from vesting a lifetime Thai usufruct into a Thai company and subsequently retaining an infinite Thai usufruct because a Thai company or partnership could, in theory, last forever.
Thai 30 Year Leases and their effect upon usufructs in Thailand
Although a Thai usufruct extinguishes upon a person's death in Thailand. There is an odd quirk to this rule: a lease of a usufruct can be obtained in Thailand and this Thai lease will remain valid even if the owner of the Thai usufruct who granted the Thai lease should die. This means that one can enact a lease on a lifetime usufruct (duly registered with the Thai land office), and that lease shall be binding upon the underlying property owner in Thailand regardless of the fact that the Thai usufruct has been extinguished upon the death of the lifetime Thai usufruct holder.

Thailand Business Setup

Thai Company registration and incorporation can be a difficult process; Integrity Legal can assist in Company Setup in Thailand.
Thai Business Setup
Marriage in Thailand

Getting Married in Thailand has never been easier. Integrity Legal's Thai lawyers can assist in executing a legal marriage in the Kingdom of Thailand.
Marriage in Thailand
USA Visa From Thailand

Integrity Legal is equipped to assist with US Immigration from Thailand. We Specialize in K1 Fiance Visas for Thais as well as K3 Marriage Visas.
US Visa Thailand
TO CONTACT INTEGRITY LEGAL Thailand Co. Ltd
EMAIL US AT: [email protected]
Call Toll Free: 1-877-231-7533
The hiring of a lawyer is an important decision that should not be based solely on advertisement. Before you decide, ask us to send you free written information about our qualifications and experience. The information presented on this site should not be construed to be formal legal advice nor the formation of a lawyer/client relationship.