Latest News
Thai Immigration has recently changed the rules for visa issuance. Thai Business visa extensions are now more difficult to obtain
read more
US Visa Services
Foreign Business License
in Thailand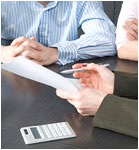 It can be difficult for foreign business owners in Thailand to run a business because the laws of Thailand place restrictions upon the types of companies that may do business. One of the main restrictions placed on non-Thai business owners is the Thai law known as the foreign business act. This act states that a non-Thai may only own a minority share in any Thai company that wishes to do business in Thailand.
The upshot of this rule is that effectively a non-Thai is severely restricted in his ability to transact business in Thailand. There are some exceptions to this and ways of circumventing this rule, namely: forming a Treaty of Amity Company or setting up a Thai majority owned company with a disproportionate number of Thai voting shares in the control of the foreign share holder. That being said, sometimes it becomes necessary to obtain a foreign business license in order to do business in Thailand.
The procedure for obtaining a foreign business license entails setting up a Thai company with a foreigner as majority shareholder, putting together an application for a foreign business license, submitting the application to the foreign business office of Thailand, and should the committee assigned to review foreign business license applications approve the application one must go to the Ministry of Commerce to obtain the license itself. The foreign business license must be prominently displayed at all times in the office of the business.
A foreign business license application is a difficult and time consuming process. It is highly advisable that those seeking a foreign business license in Thailand should retain a competent lawyer in Thailand to assist with compiling the application and streamlining the approval. Contact Integrity Legal for more information about the foreign business license in Thailand.

Thailand Business Setup

Thai Company registration and incorporation can be a difficult process; Integrity Legal can assist in Company Setup in Thailand.
Thai Business Setup
Marriage in Thailand

Getting Married in Thailand has never been easier. Integrity Legal's Thai lawyers can assist in executing a legal marriage in the Kingdom of Thailand.
Marriage in Thailand
USA Visa From Thailand

Integrity Legal is equipped to assist with US Immigration from Thailand. We Specialize in K1 Fiance Visas for Thais as well as K3 Marriage Visas.
US Visa Thailand
TO CONTACT INTEGRITY LEGAL Thailand Co. Ltd
EMAIL US AT: [email protected]
Call Toll Free: 1-877-231-7533
The hiring of a lawyer is an important decision that should not be based solely on advertisement. Before you decide, ask us to send you free written information about our qualifications and experience. The information presented on this site should not be construed to be formal legal advice nor the formation of a lawyer/client relationship.