Latest News
Thai Immigration has recently changed the rules for visa issuance. Thai Business visa extensions are now more difficult to obtain
read more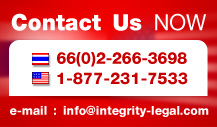 Buy a Condo / House
There has never been a better time to invest in Thai Real Estate. more

US Visa Services
Same Sex Visa
Unfairly, at this time, pursuant to the provisions of the Defense of Marriage Act (DOMA), same sex bi-national couples are unable to obtain United States Family Immigration Benefits. At the time of this writing there is some speculation that a bill to provide Same Sex Family Immigration benefits may be introduced before the United States Congress either in the form of a "stand alone" bill similar in purpose and effect to the Uniting American Families Act (UAFA) or in an omnibus piece of legislation such as Comprehensive Immigration Reform (CIR). There is also a possibility that the United States Federal Courts may decide all or portions of the Defense of Marriage Act are unconstitutional. That being said, at the time of this writing Lesbian, Gay, Bi-Sexual, and Transgendered (LGBT) bi-national couples are still unable to enjoy equal US Family Immigration benefits, but with the possibility of legislative change in the near future it may be wise for LGBT couples to begin preparing evidence for a future Immigration petition.
As with any United States Immigration petition, evidence of a bona fide, ongoing relationship is extremely important for a successful application. Therefore, those in a relationship that may eventually be the basis of a petition for US Immigration benefits for their same sex partner should document the development of that relationship as it progresses and matures so that they will have the necessary documentary evidence of the bona fides of their relationship when LGBT couples are provided the same rights and privileges as straight couples in US immigration benefit applications. Following changes in the law necessary to afford LGBT couples equal treatment for US immigration benefits, we believe that such petitions may initially be subject to somewhat higher levels of scrutiny at the Consular Post level due to Consular Officers unfamiliarity with such applications. In theory, there should be no difference in how LGBT couple's applications should be treated by Consular Officers but, in practice, we don't believe that that will be the case until Consular Officers gain sufficient experience adjudicating applications involving LGBT couples.
Although United States family immigration benefits are currently not being conferred upon bi-national lesbian, gay, bisexual, and transgendered (LGBT) couples due to discrimatory provisions of the Defense of Marriage Act (DOMA), there is reason to believe that this will not be the case in perpetuity. Currently, the US Courts are reviewing the legality of the DOMA itself. There are many who believe that DOMA is unconstitutional and that the Courts will eventually vindicate that position. At the same time, Comprehensive Immigration Reform is being debated in the United States Congress. If the US Congress rescinds DOMA or the US Courts overturn it, then bi-national LGBT couples could begin to seek US Immigration benefits, but like any other bi-national couple seeking US Immigration benefits: proving up a bona fide relationship is one of the primary components necessary for ultimate success.
For those interested in more information about the constantly evolving nature of US LGBT Immigration issues please contact info@integrity-legal.com or for updates please see our blog or subscribe to our RSS feed.
For updates regarding US Visas for same-sex couples please see: Same Sex Visa

Thailand Business Setup

Thai Company registration and incorporation can be a difficult process; Integrity Legal can assist in Company Setup in Thailand.
Thai Business Setup
Marriage in Thailand

Getting Married in Thailand has never been easier. Integrity Legal's Thai lawyers can assist in executing a legal marriage in the Kingdom of Thailand.
Marriage in Thailand
USA Visa From Thailand

Integrity Legal is equipped to assist with US Immigration from Thailand. We Specialize in K1 Fiance Visas for Thais as well as K3 Marriage Visas.
US Visa Thailand
The hiring of a lawyer is an important decision that should not be based solely on advertisement. Before you decide, ask us to send you free written information about our qualifications and experience. The information presented on this site should not be construed to be formal legal advice nor the formation of a lawyer/client relationship.