Latest News
Thai Immigration has recently changed the rules for visa issuance. Thai Business visa extensions are now more difficult to obtain
read more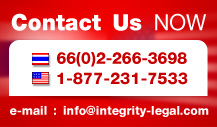 Buy a Condo / House
There has never been a better time to invest in Thai Real Estate. more

Thailand

Visa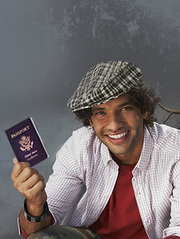 A major concern for those foreigners coming to Thailand is the acquisition of a long term Thai visa. Even amongst the expatriate community in Thailand, the Thai visa issue can be a constant concern. This concern can be particularly acute because the Thai Immigration regulations regarding the issuance and extension of Thai visas are in a constant state of flux. Therefore, it can be difficult for foreigners to do research on Thai visa rules because much information quickly goes stale. This research problem is compounded by the fact that each Thai visa category has its own rules regarding issuance and extension.
If the applicant is not in the Kingdom of Thailand, then the submission of the Thai visa application will depend upon the applicant's country of origin. For many, obtaining the preferred Thai visa category will prove difficult if the proper documentation is not prepared before submission at the Thai Embassy or Consulate. In recent years, the Royal Thai Immigration Police have made entry regulations more stringent. Meanwhile, the Thai Ministry of Foreign Affairs has made it more difficult for applicants to receive multiple tourist visas at Embassies and Consulates in countries such as Laos, Cambodia, Malaysia, Singapore, Myanmar (Burma), Hong Kong, Vietnam, and the Philippines. Finally, the ultimate decision in Thai visa matters is left to the officer reviewing the application. It is not uncommon to see a Thai visa application rejected because the forms are not properly filled out or the applicant is light on documentation. It would seem that professional assistance may be a necessity when it comes to applying for visas to Thailand.
Some foreign nationals opt to retain the services of a firm to assist with the compilation of a Thailand visa application. In many cases, retaining a Thai firm to compile the Thailand visa application can facilitate faster visa approval. It is also true that oftentimes assistance may be necessary for those who wish to travel to the Kingdom of Thailand and remain for a prolonged period. There are many firms that offer Thai visa application assistance for as much as four to five hundred US Dollars. We at Integrity Legal feel that these types of fees are outrageous. In an effort to provide competent legal services at reasonable prices, Integrity Legal offers our Thai visa application service for 4710 Thai baht. This fee includes shipping and handling as well as application preparation. Not included in this fee is the application fee that must be paid directly to the Royal Thai Embassy or Consulate. This visa processing fee must be paid at the time the application is submitted.
Get Your Thai Visa Application Started TODAY!
Have your say
Please fill out our questionnaire so that we can get back to you with specific advice regarding your Thai Immigration options. We usually respond to all routine inquiries within 24 hours.
For further information on our Thailand Visa services:
* 1. Call our Visa Department on; +66 (0)2 66 3698
* 2. Use our FREE Live Chat facility to speak directly with us. Chat Online Now.
* 3. Finally you can email us from our Contact Us page, or fill in the contact form on this page and we'll get back to you soon.

Thailand Business Setup

Thai Company registration and incorporation can be a difficult process; Integrity Legal can assist in Company Setup in Thailand.
Thai Business Setup
Marriage in Thailand

Getting Married in Thailand has never been easier. Integrity Legal's Thai lawyers can assist in executing a legal marriage in the Kingdom of Thailand.
Marriage in Thailand
USA Visa From Thailand

Integrity Legal is equipped to assist with US Immigration from Thailand. We Specialize in K1 Fiance Visas for Thais as well as K3 Marriage Visas.
US Visa Thailand
The hiring of a lawyer is an important decision that should not be based solely on advertisement. Before you decide, ask us to send you free written information about our qualifications and experience. The information presented on this site should not be construed to be formal legal advice nor the formation of a lawyer/client relationship.
For updated information regarding Thai Immigration matters please visit the forum at: Thai Visa